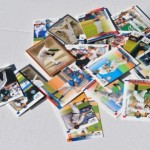 Sports memorabilia generates collective annual revenues of over $5 billion. Annually, there is $500,000,000 lost to fraudulent sports memorabilia, alone. Exercising extreme caution at your estate sale, enlisting the services of experienced estate professionals, will stop you from throwing thousands in profit out the window.
The last T206 Honus Wagner baseball card, depicting the Pittsburgh baseball player's mug over a yellow background, was sold at auction in 2010 for nearly a quarter million dollars in 2010. Considering there were only 40 copies ever circulated by the American Tobacco Company in the early 20th century, the card is the most valuable in the world, with some copies maxing out at $2.8 million.
Meanwhile, two of the greatest to ever play the game after the so called 'dead ball' era have cards with no drop-in-the-pan price-tag, either. Babe Ruth's 1914 Baltimore News card will fetch you well over $500k if you find it in your attic. Likewise, the 1951 Bowman Mickey Mantle rookie card can fetch you more than $250k.
But baseball players from the early 20th century aren't the only athletes fetching hefty returns on their cardboard. Take the mint condition 1986 Michael Jordan Fleer card. Much more likely to be found in an attic cleanout, you could get over $100k for this find. Or take the 1979 Wayne Gretzky rookie card, valued at over $50k.
Sports memorabilia and collectibles make for a multimillion dollar annual business. So if you have an attic full of old sports cards or even autographed paraphernalia, you may want to reconsider tossing them in the trash as junk. Getting your items professionally appraised is imperative for sound financial decision making.